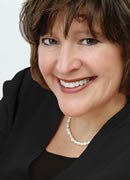 Randi Thompson
Nevada NewsMakers Political Analyst
Nevada NewsMakers Blogs
Carmen Miranda can not save Nevada's economy!
Published: 6/2/2012 3:51:49 PM
It's an election year, so I'm not surprised to hear from politicians about how they support small business and will fight for Main Street not Wall Street. Considering that over 60% of net new jobs are created by small business, politicians do need to support small business, as their growth will lead this economy out of recession. But beware of claims by some folks who say they support small business, when their record shows just the opposite!

I first have to give U.S. Rep. Shelley Berkley credit for coming up with the most exotic proposal for economic development from any candidate running for office anywhere in the nation.

In a recent speech to the Las Vegas Chamber of Commerce, after she rehashed the Democrats talking points about how green jobs will save our economy, de rigueur for candidates everywhere, she leaped across the continent for a truly original idea: More Brazilian tourists! "Brazil is as hot as a pistol," she enthused. "They like to party." (Who says liberals don't like stereotypes?)

The Berkley campaign for U.S. Senate will not be without its future entertainments with ideas like that, but one thing needs nipping in the bud, now, as she seems to be trying to position herself as the small-business candidate: she is no friend to small business. She doesn't have the record to match Sen. Dean Heller's when it comes to supporting the mom-and-pop, Main Street enterprises that employ a majority of Americans and create almost all new jobs in our state and our nation.

Berkley tried to show some small-business street credentials by highlighting her support and Heller's opposition of the 2010 Small Business Jobs Act, a classic Reid/Pelosi/Obama bill that did little to help create jobs. Don't let the name of the bill fool you, nor let this one vote make you think she's a friend to small business.

In fact, she owes small businesses an explanation about her vote for Obama Care, the bill that will force everyone -- for the first time since the revolution -- to buy a product or pay a fine. This bill will also cost Nevada taxpayers over $500 million over the next few years to pay for an extreme expansion Medicaid.

It seems Ms. Berkley is having second thoughts about her vote – not uncommon during an election year. According to the Associated Press who covered her Chamber speech, "Berkley, for example, stopped short recently of urging the U.S. Supreme Court to uphold the federal health care law. Pressed about her position after her speech, she told reporters that she supports health care access for the nation's uninsured, but again declined to defend the law."

Really? Why? She voted for it. But when the tsunami of job-killing, economic-crushing elements of the bill stared to hit, such as filing a 1099 tax form for every expense over $600, or the health-insurance tax (HIT) taking aim at small businesses (something Sen. Heller is working to repeal) -- the economic devastation of this bill was more visible.

Whatever the Supreme Court rules in the health care law the record remains that when the most important time to stand up for small business in the past half century came, Berkley sat with her party leadership and not with small business. We all want affordable and accessible health care, but this is not the bill that will make that happen.

Sen. Dean Heller knows economies are built and sustained by the slow, steady march down Main Street, not by a swift Brazilian Samba down the Las Vegas Strip.


Read More from A View from Center Right >>>